Manage your account at Labii
If you do not have an account with Labii, you can create an account
here
. If you are joining an existing company, please check with your account administrators and ask them to add you.
Labii has multiple data centers and the URL to login is different. Labii also provides dedicated servers for our customers, you might have your own specific domain to log in. Please check with your administrators or Labii representatives for the URL.
Labii offers a range of data centers where you can securely store your data. Before logging in, it is important to ensure that you have selected the correct data center. For detailed information about our data centers, please visit our website at
https://www.labii.com/data-centers
.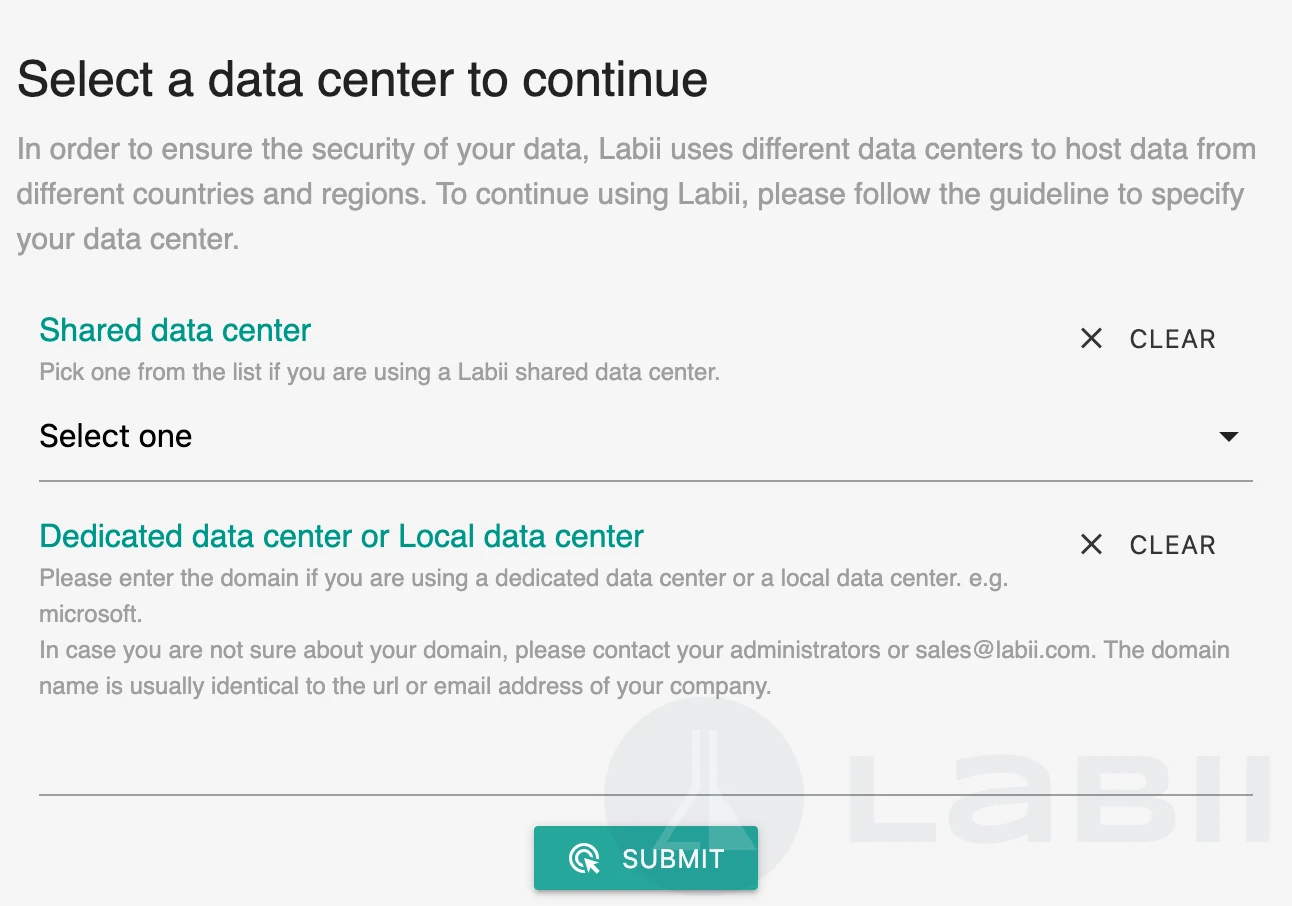 To switch to a different data center, follow these steps:
1.

In the top right corner of the navigation bar, click on the name of the current data center.

2.

From the dropdown menu, select "Change data center."
If you are using one of Labii's shared data centers, you can choose a different data center from the dropdown menu labeled "
Shared data center.
"
On the other hand, if you are using a dedicated data center or a local data center, please enter the name of your data center (usually your domain name) in the provided field. After entering the name, click on the "Submit" button to proceed.
To log on to Labii, visit your server and enter your
Email
and
Password
in the corresponding boxes and click
Submit.
5 consecutive failed login attempts will result in your account being locked for 1 hour.
You will receive an email regarding each of your failed logins.
MFA with email or text message is supported. To make it work:
1.

Add your phone number in

Settings -> My Profile

2.

Enable your MFA in

Settings -> My Profile
Once MFA is enabled, you will be poped to send a code and enter the access code.
1.

In the login page, click the link of Login with SSO.

3.

Click Submit and you will be redirect to your IdP (Identify Provider) to authenticate.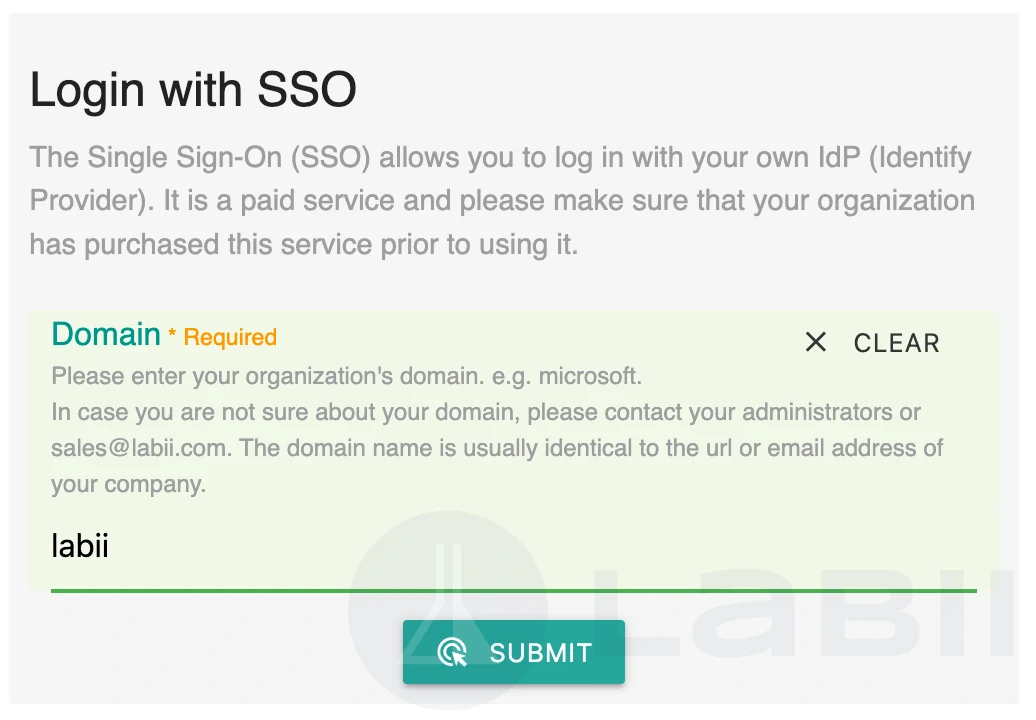 If you are using a dedicated server, you will be redirected to the identity provider's home page to log in to Labii.
To sign out of Labii, click the
"Logout [your name]"
button on the bottom of the left sidebar, below the Help button.
Use this documentation to change/update your password.
For security reasons, the reset password you received will be invalid after 30 minutes. In that case, you need to use the
Forgot Password
function to get a new link.
Before proceeding, please make sure you have followed the
Labii Access Email
to activate your account. If your account is not activated, you can not log in.
If you did not receive such an email, please double check your spam, or double-check with your administrators, they might add the wrong email address.
​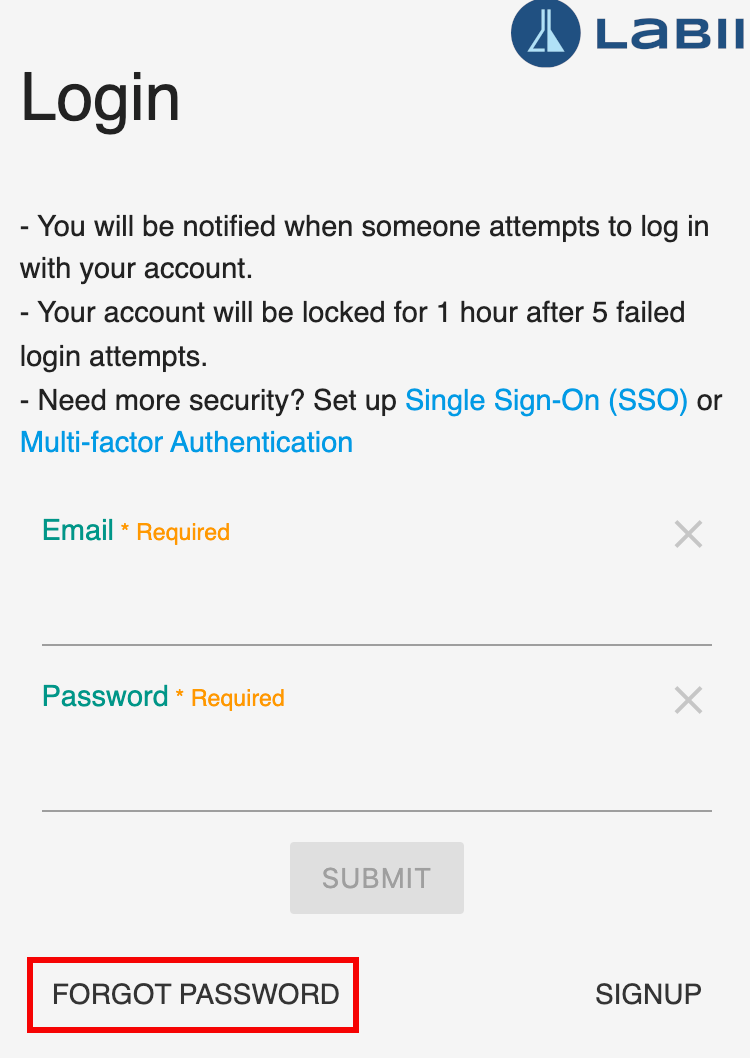 ​
Once clicked, the following page will show up. Provide your email address and click Submit, you shall receive an email from Labii Support ([email protected]) within 2 minutes.
​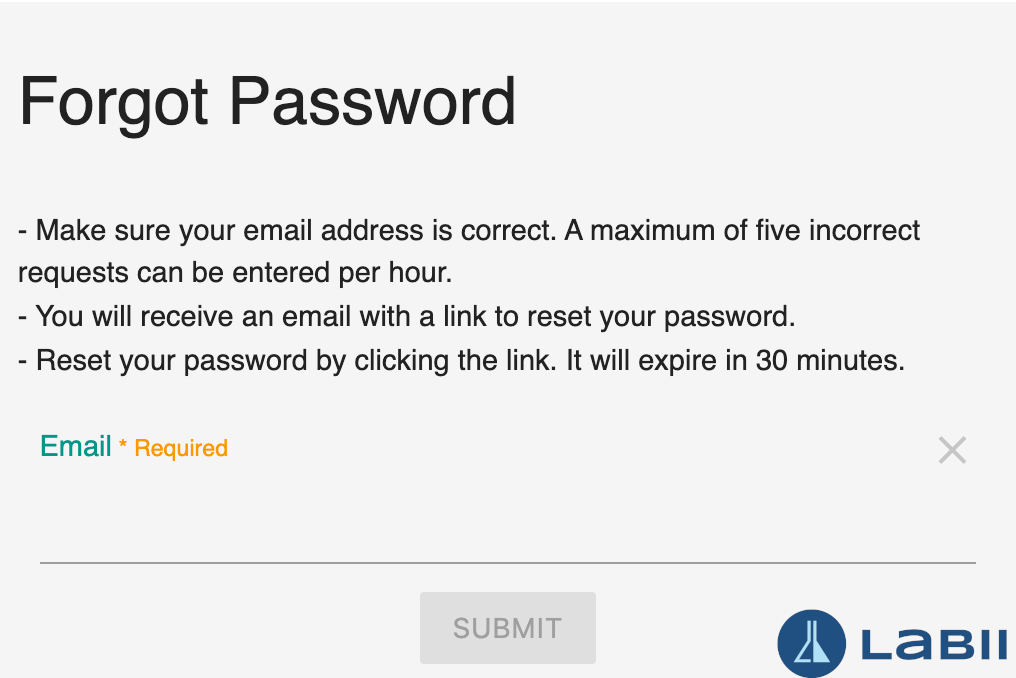 ​
Click the link in the email to reset your password.
​
​
Once a new password is provided, you shall be able to log in with the new password.
Please make sure you click the RESET PASSWORD link within 30 minutes. For security reasons, the link will be expired in 30 minutes.