Display all versions related to the changes
The content display is similar to the
Version
widget. You can use the Version widget to insert the version information in your detail view.
A
blockchain
, originally block chain, is a growing list of records, called blocks, which are linked using cryptography. Each block contains a cryptographic hash of the previous block, a timestamp, and transaction data. By design, a blockchain is resistant to modification of the data.
Labii utilizes the hash key (blockchain technology) of each version to ensure no alter can be made to any of the previous versions.
11.10(a)

Validation of systems to ensure accuracy, reliability, consistent intended performance, and the ability to discern invalid or altered records.
A list of versions are displayed at this page. Each version contains a version number, a customized or auto generated commit message, the user, the timestamp, a hash key, as well as a checking icon.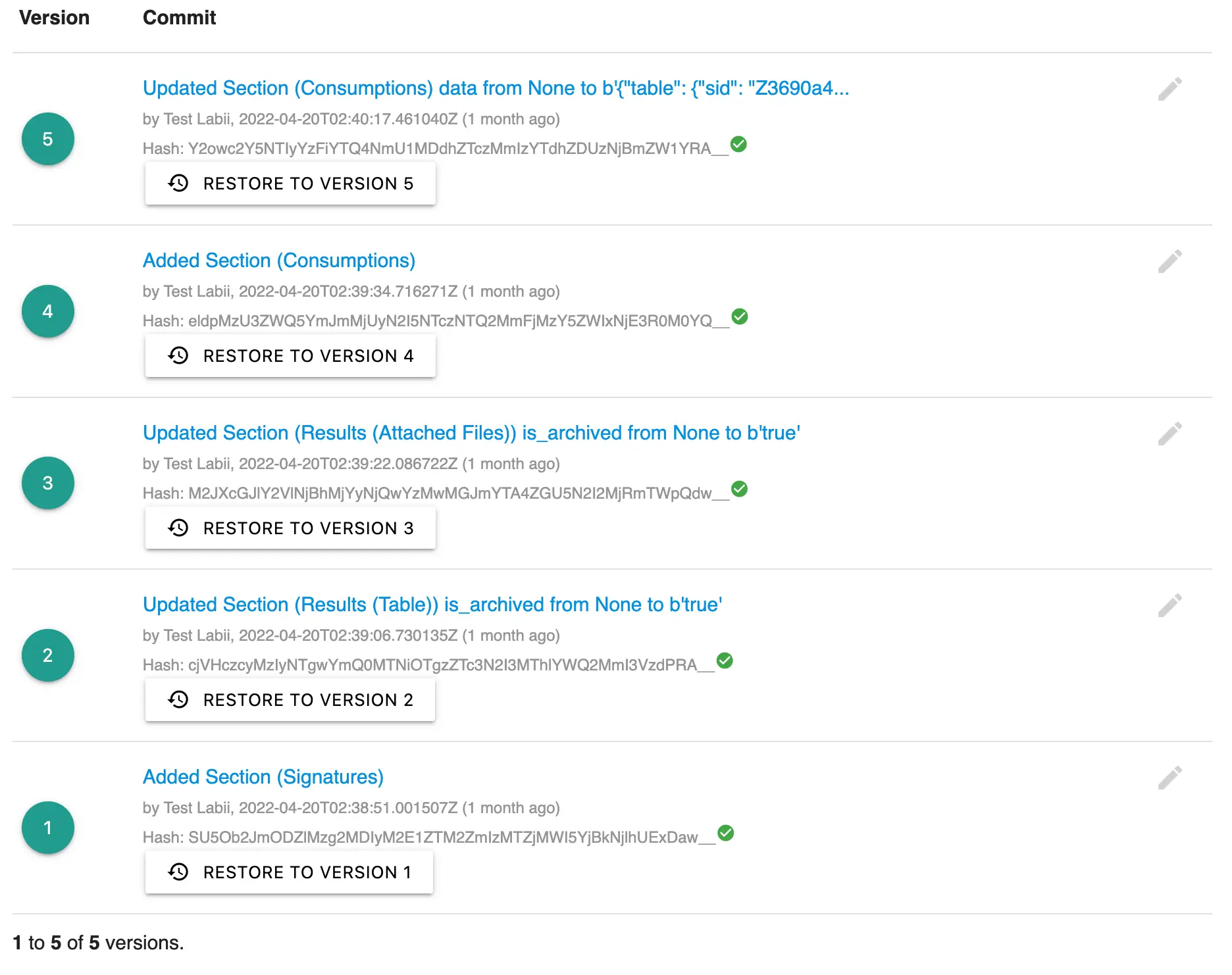 On default, 10 most recent versions are loaded in the detail view, click "
Load More
" button to load more activities.
You can search signers by typing a keyword into the search bar in the
version list view
, and then clicking
Search
. The search results can always be cleared by clicking the
Clear
button.
With the
Filter
function, you can limit the number of signers displayed. You can do that by clicking
All versions
and then selecting a filter from the dropdown. Here are a list of filters:
All versions

. Filter to display all versions.

Renamed versions

. Filter to display the versions that have been renamed.

My versions

. Filter to display the versions created by you.
The commit message of a version can be updated for easy memory. A commit message indicates the message of changes, and why the change is made.
Click the pencil icon next to the version to update the commit message.
The update of the commit message will not change the connect of the version.
The detail of each version can be preview via clicking the the version title. The view is same as the
print view
, and it is readonly, no changed can be made.
If mistakes are made, you have options to restore to a previous version. Click "
Restore
" to restore. The restore will create a new version with notes "restored from version xxx".